ReAction Czarface Czar Noir Evil Dark Czar Wu Tang Figure SDCC 2021 Super 7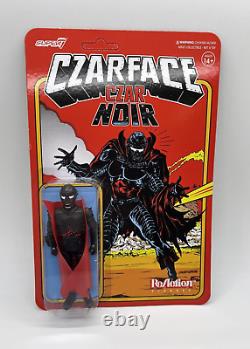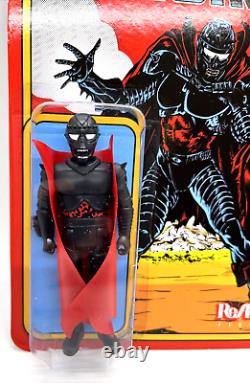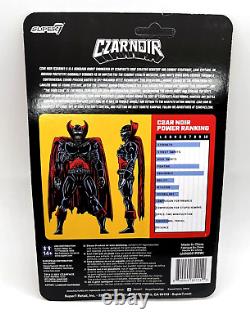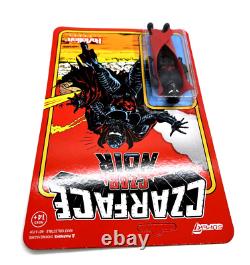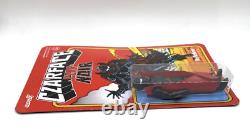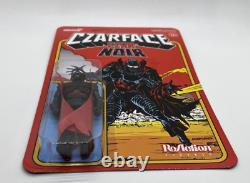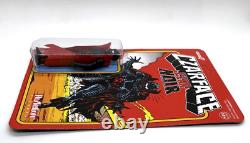 ReACTION SERIES BY SUPER 7. 2021 SAN DIEGO COMIC CON EXCLUSIVE LIMITED EDITION.
Czar Noir is a renegade robot engineered by Czarface's Chief Creative Scientist and Combat Strategist, Xave Rystarr. Dubbed "Evil Czarface" and "The Dark Czar" by the media, Czar Noir has been impersonating Czarface and getting into trouble! Based on Czarface's new album of the same name, this variant of the 3.75 articulated Czarface ReAction figure features a black body with red accents and cape for a new, even more intimidating look. Czar Noir is currently at large, so get "Avant Czar" queued up on your playlist and add this figure to your collection while you can! This is the limited edition 2021 release of the CZARFACE ReAction Figure.
Set in the custom backing card created by the one and only lethal Lamour Supreme. Cop it before it's gone! THE FIGURE PICTURED IS THE EXACT ONE FOR SALE IN THIS LISTING. We are also collectors and try our best to select the best looking boxes for our inventory. However, please be aware that all of our toy packaging is subjected to shelfware/standard flaws.
This item's packaging may have normal wear such as dings, dents, bends, creases, scrapes, and any other packaging imperfections, just as you would see in your local retail store. Of course, we will not send you anything that looks mangled, but some box imperfections are possible. We are not professional graders and do not promise specific grades such as "C10" or "Mint" condition. "Mint" is a subjective term (and arguably a matter of opinion) used by collectors. For this reason, we list all of our items with packaging flaws, even if they are packaged in pristine condition.
Stock photos are often used or one specific item from our inventory is used as a stock photo. Please do NOT use this as a reference for package condition.
Unfortunately, we can't picture every single toy and blemish we have a pretty large selection of toys! We will be more than happy to hand pick a specific item and provide exact photos to arrange a sale. Most of the toys we sell are in beautiful packaging condition. Many collectibles we sell have been carefully stored in sealed packaging for years. There is no way for us to test the item without opening the packaging (which we will not do).
Please do not expect a factory sealed Star Wars lightsaber from 2010 to arrive with working demo batteries. Funko figures are machine painted.
Funko does not consider inferior paint jobs or box imperfections to be defective or damaged. We will hand select and detail photograph a suitable item from our inventory at your request. Please allow us time to respond to your request. Special requests after placing your order will not be granted. No exceptions will be granted.
Many of the collectibles we sell are of significant value. We do not want to compromise the item's condition or risk the package getting lost in transit going back and forth through the postal service. All wearable items such as clothing, shoes, belts, hats, etc. Please be sure to measure carefully.
We are well aware of the widespread of counterfeit knock-offs from Asia. We absolutely do not tolerate box swaps, figure swaps or any other type of return fraud! Please be forewarned, we will take legal action to recover our losses.
Cryptkeeper Toys and Collectibles is registered in Sarasota County, FL, USA. Its is agreed that all parties will abide by the laws of the State of Florida in all matters relating to this agreement. And that in the case of any dispute, the legal jurisdiction of resolution shall be Sarasota County. Please ask any questions and read the listing in it's entirety before purchasing.
Please visit our store for a large selection of hard-to-find toys and collectibles!